Kids
We make water better.
No sugar high means no sugar crash. SOS fuels your kids on and off the playground.
Our kids wanted a drink that tasted great. We wanted a "better for you" option that wasn't loaded with sugar. And so, SOS was born. Enhanced with the vitamins, minerals, and hydration they need, in flavors they actually like.
Our founders, a board certified physician, a military veteran and an elite athlete, made a brilliant discovery: water gets lonely without electrolytes and minerals. Add them together, and they're a match made in hydration heaven.
Hydrate 3X faster than water alone

Your body absorbs SOS 3X faster than water to keep you at the top of your game. Faster hydration = faster recovery.

Supercharge your electrolytes

SOS replenishes lost electrolytes to maintain the balance of fluid in your body and keep you feeling energized.

Low in sugar, only 10 calories

SOS is formulated with 3X less sugar than our competitors and 10X less sugar than leading sports drinks.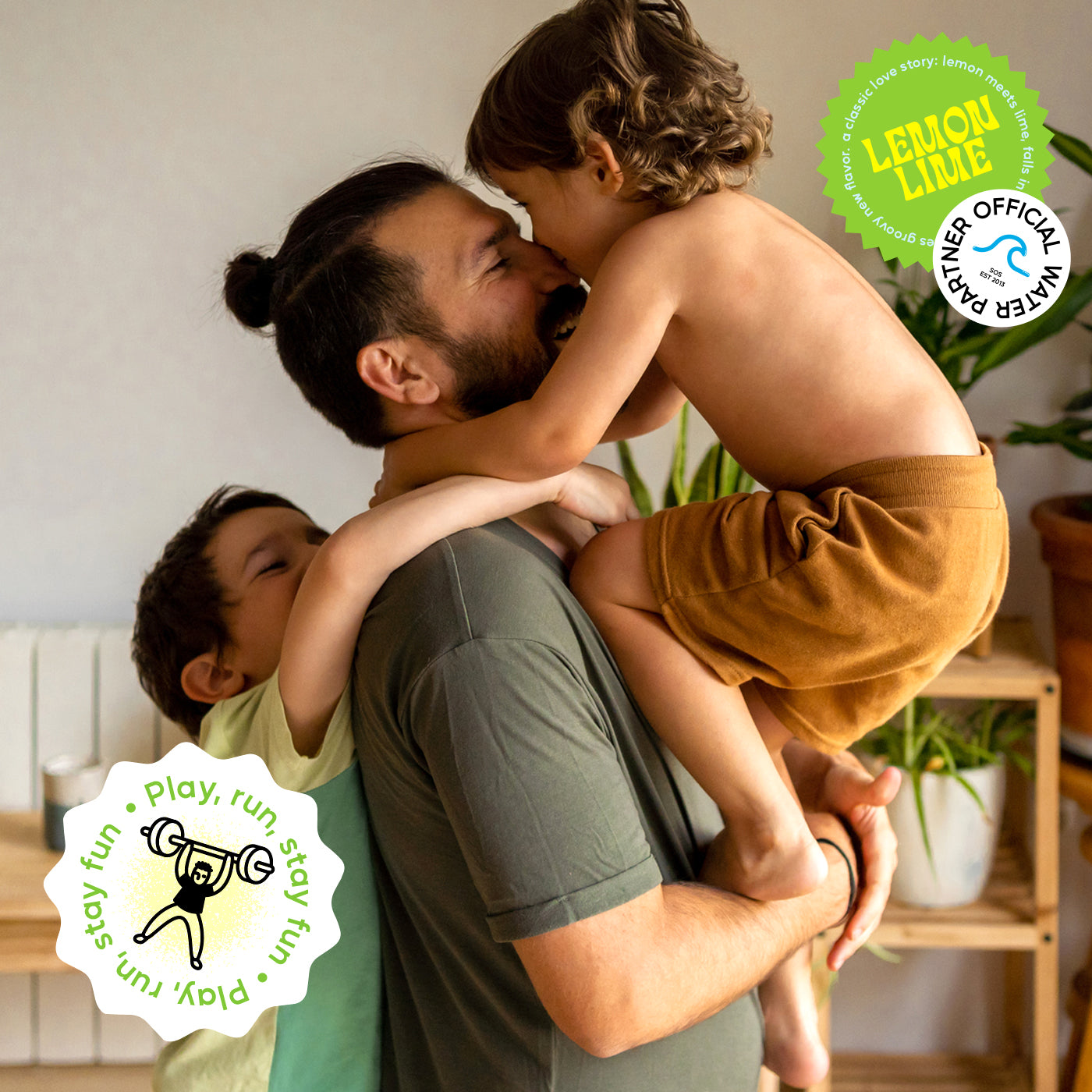 Just like brushing your teeth, hydrating can become a daily habit, too. Think of SOS like that singing toothbrush—we take something boring and make it fun.
Don't be shy (people ask us this a lot).
What are the SOS ingredients and nutritional information?

Nutrition facts: Serving size 1 stick (@4.8g) to mix with 250ml (8foz) water. Calories 10. Fat Cal 0g. Total fat 0g (0%DV). Total Carb 3g (1%DV). Sugars 3g. Sodium 330mg (14%DV). Potassium 195mg (5%DV). Protein 0g. Magnesium (5%DV). Zinc (20% DV). Not a significant source of calories from fat, saturated fat, cholesterol, dietary fibre, vitamin A, vitamin C, calcium and iron. *Percent Daily values based off a 2000 calorie diet.
How does SOS work?

SOS uses the World Health Organization's Oral Rehydration Therapy recommendations and data from the American College of Sports Medicine. By correctly balancing the amount of sodium and glucose, SOS enhances the water absorption process by activating the body's natural mechanism know as the Sodium/Glucose co-transport system, which is located in the small bowel. When SOS arrives in the small intestine, one molecule of sodium is quickly pulled into the blood vessels by one molecule of glucose; subsequently, due to osmotic forces, water gets absorbed as it always follows sodium. This is the main reason why we need salt (sodium) and sugar (glucose). With salt we can prevent "water intoxication" and maintain a good osmolarity; with the correct types of sugars, we forestall the development of lactic acidosis.
Who should not use SOS?

People with water restrictions, heart or kidney problems, or children under the age of 1 should consult with a physician before use. SOS is designed for people with active lifestyles.
What do I mix SOS with?

SOS should only be mixed with clean water. Each stick or scoop contains enough ingredients to be mixed with 8 fluid ounces (250ml) of water. Always ensure that the product is well mixed and consumed within 24 hours of preparation.